High-speed fleeing from other-worldly creatures in Stranger Things, leaving the scene of a hit-and-run in Fargo and Prince Charles modifying his car to run on wine instead of petrol in The Crown – these are just a few of the weird and wonderful things that happen in our favourite Netflix shows.

Naturally, these are all factors that would seriously affect insurance premiums, so how much would it actually cost to insure them in real life? Our team of experts at Fleetcover got together and gave each risk factor a rating out of five, five being the highest risk and one being the lowest. These scores combined determined the eye-watering estimates of annual premiums for each vehicle. Take a look at the results below and see if you're still eyeing them up in your next binge-watching session…
Chief Jim Hopper's Chevrolet K5 Blazer, Stranger Things. Annual premium: £250,000 / $354,378

This eye-watering premium is largely due to Jim's profession as Chief of Police – he's been involved in all sorts of situations, including speeding away from Demogorgons and a few occurrences of accidental damage! The flashing lights also add to the cost.
The Queen's Rolls Royce Phantom VI, The Crown. Annual premium: £100,000 / $141,775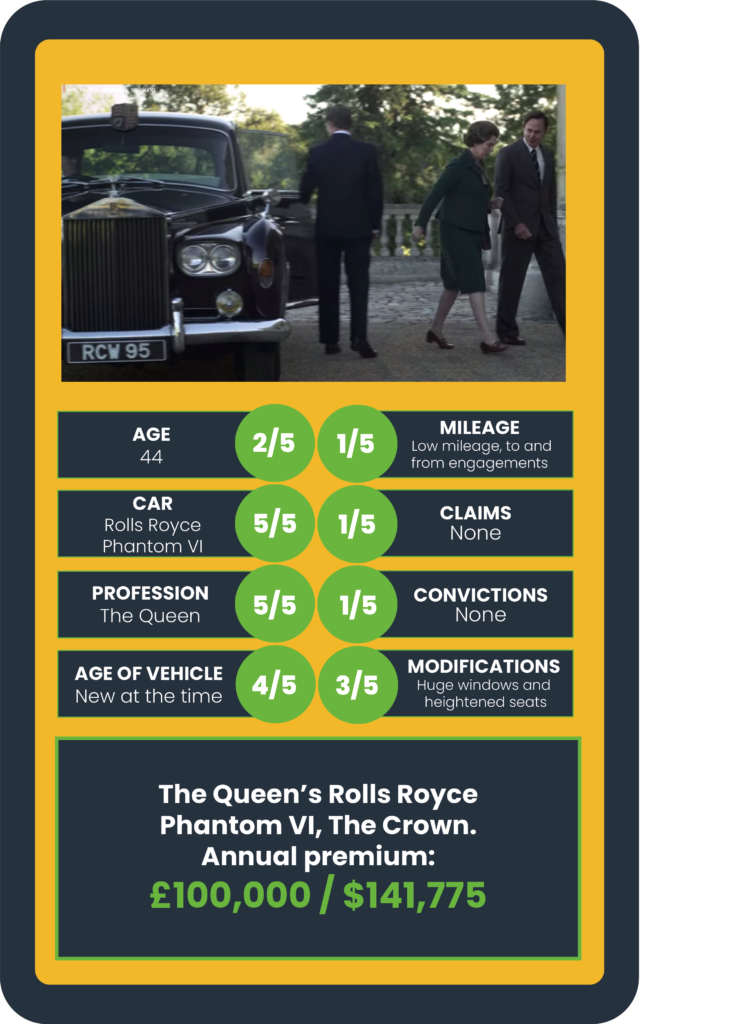 This Rolls Royce Phantom VI is valued at £2m, increasing the premium hugely as it is very attractive to thieves, although palace security will be second to none! The Queen is also a huge person of interest so her profession increases the premium. There are a couple of modifications too – huge windows and heightened seats are expensive to replace.
Prince Charles's Aston Martin DB6 Volante, The Crown. Annual premium: £185,000 / $262,189
Again, the model of car is rated 5/5 risk due to being such a high-end model, as well as his profession coming with a high risk. This car is modified to run on wine rather than petrol (yes, really), which brings numerous risks in itself!
Lucifer's Chevrolet Corvette C1, Lucifer. Annual premium: £125,000 / $177,155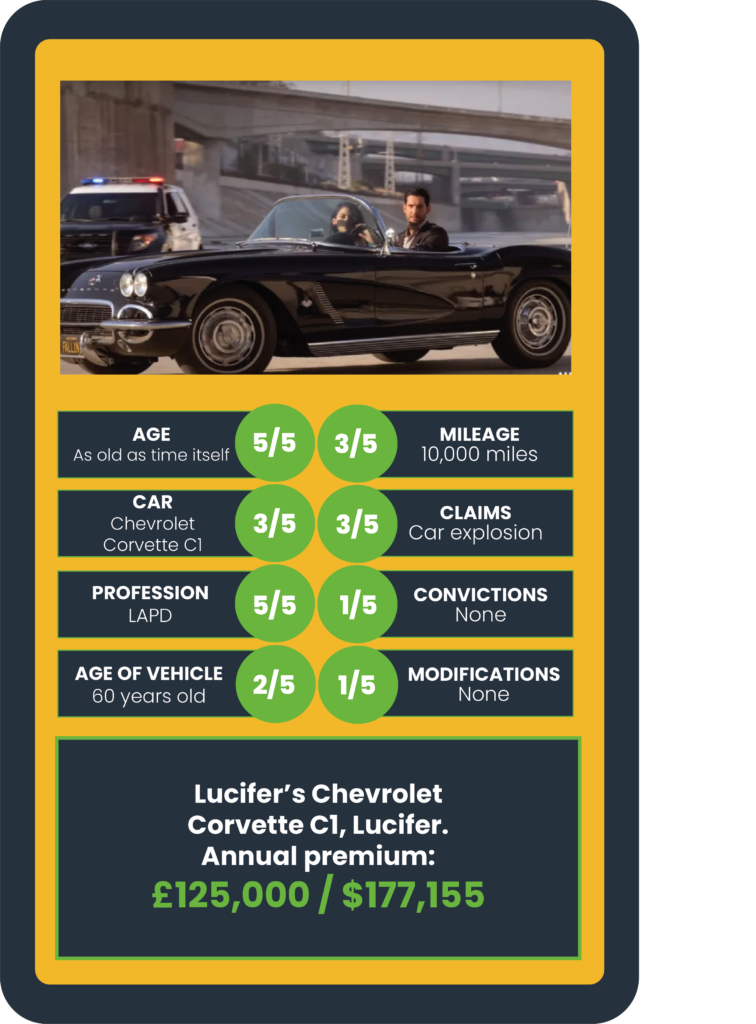 Lucifer is as old as time itself, so it's no wonder that he comes with a high risk. As a member of the LAPD, the owner of Lux nightclub and the literal ruler of hell, he gets a 5/5 rating for his profession(s)! The car explosion seen in season 3 also contributes to this high premium.
Klaus's 1960 Dodge Polara, Umbrella Academy. Annual premium: £100,000 / $141,775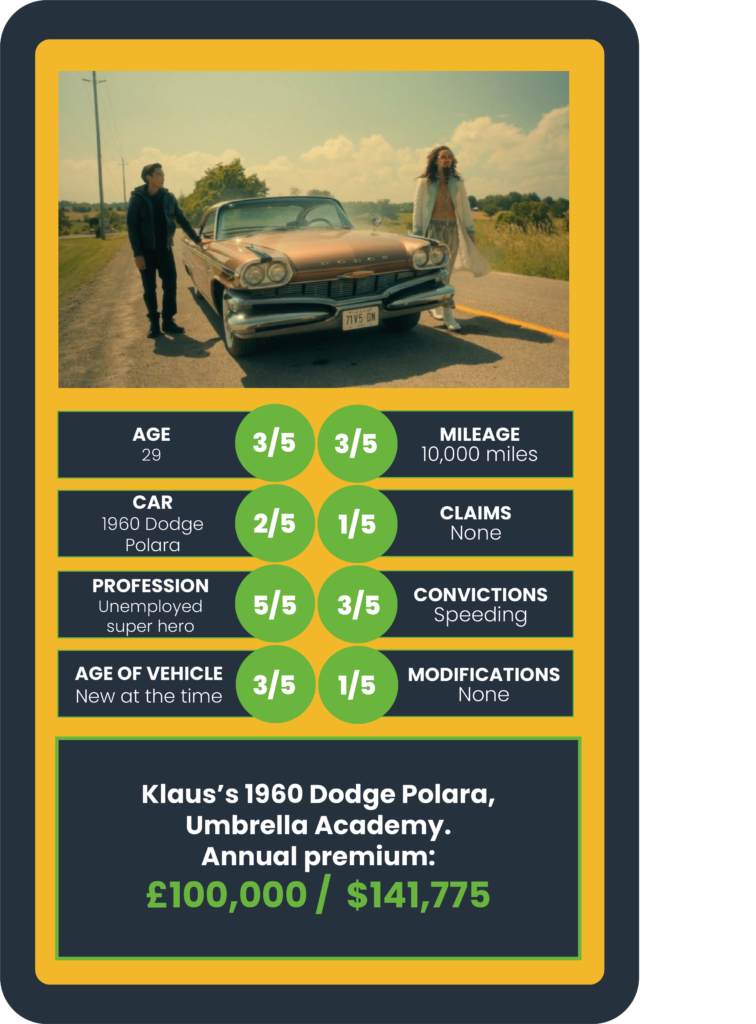 Klaus is no stranger to speeding, so his risk factor is significantly increased. Plus, being a super hero naturally comes with impending doom, as we see in the show, giving him a whopping 5/5 risk.
Jolene's Chevrolet Corvair, The Queen's Gambit. Annual premium: £2,000 / $2,786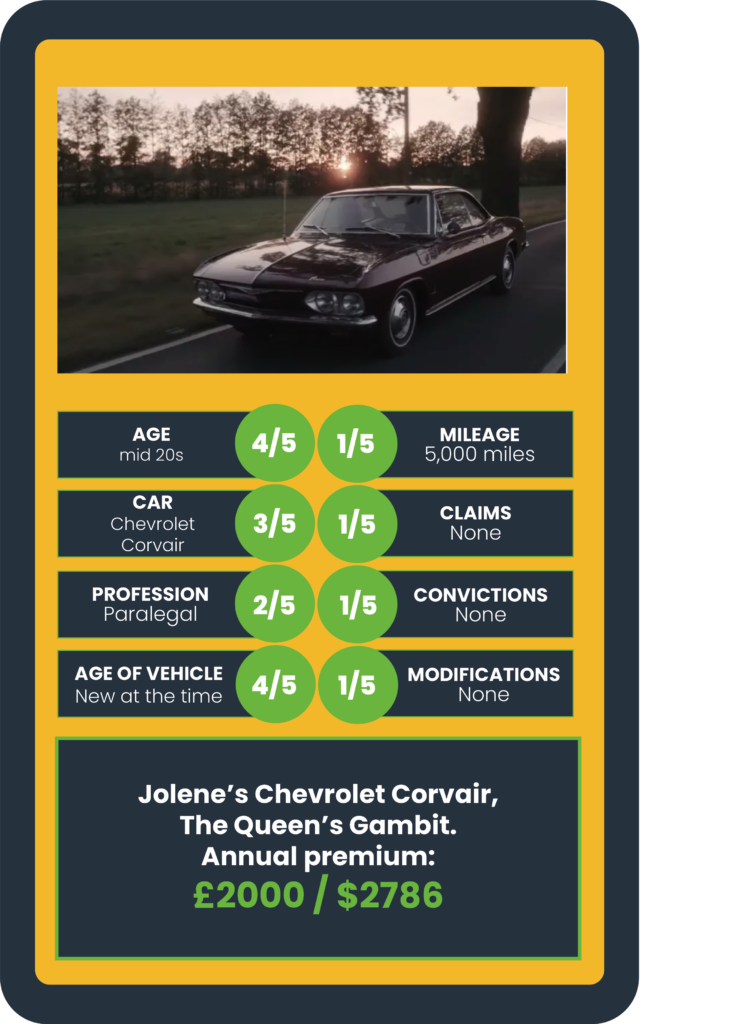 Jolene is around her mid-20s, making her quite a high risk as she is still young with little driving experience. We don't blame her for splashing her hard-earned Paralegal cash on a new car, but this increases the risk to a high 4 out of 5. Given her profession, we're going to give her the benefit of the doubt and assume she abides by the law, so she gets off a little easy on this one!
Peggy's Chevrolet Corvair, Fargo. Annual premium: £150,000 / $212,378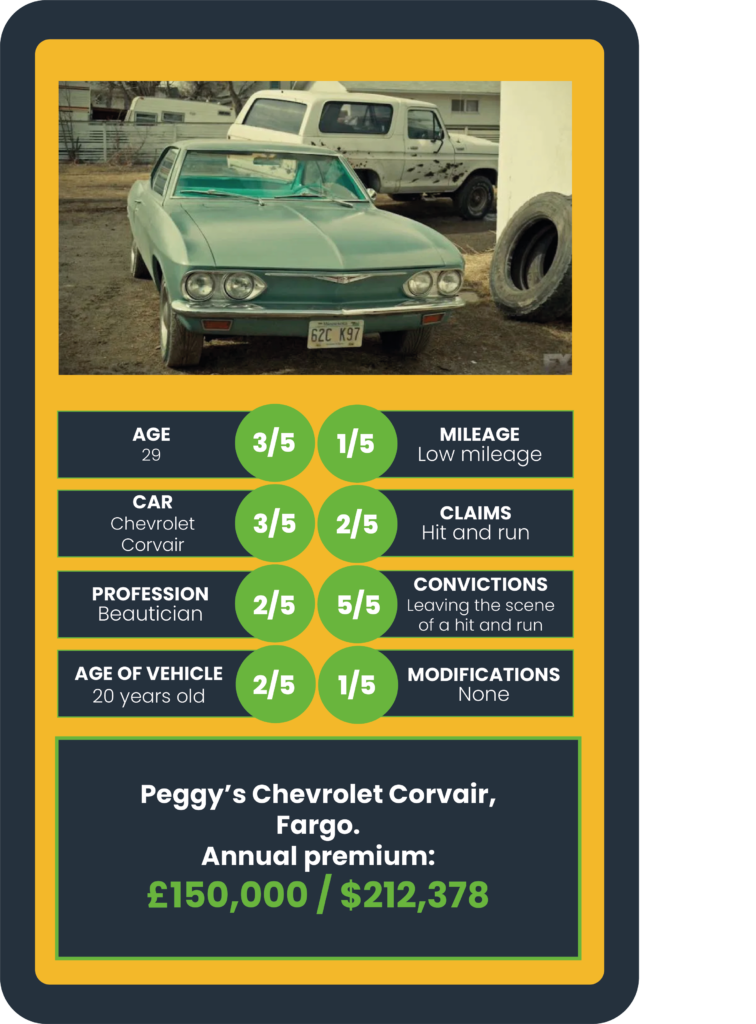 You can't flee the scene of a crash and expect to get away with it, so we had to give a 5/5 to Peggy for previous claims! Although, her profession combined with low mileage does counteract this, being given a 2 and 1 out of five respectively.